Venezuela migration continues to increase.
OP ED: We tried to shed light on this back in APRIL of 2018. This was easy to forecast.
http://panamanowonline.com/wp-admin/post.php?post=593&action=edit
For the regional headquarters of Latin America and the Caribbean of the World Bank, the migration of Venezuelans is the greatest mobilization in the countries of the area in recent history.
https://www.prensa.com/mundo/migracion-de-venezolanos-es-la-movilizacion-mas-grande-de-la-region-segun-el-banco-mundial/
The office of the United Nations High Commissioner for Refugees indicated that 4.6 million people have left Venezuela.
The largest number of migrants has been received by Colombia, which to date reports that there are 1.4 million Venezuelans in their territory, who have left their country for political, social and economic reasons.
Peru is the second destination chosen by Venezuelans to migrate. Therefore, to date it is reported that it has received 870 thousand.
In third place is Ecuador with a total of 385 thousand, while in Chile there are 371 thousand. Meanwhile, in Panama, according to the World Bank, there are 94 thousand.
Banco Mundial | América Latina y el Caribe✔@BancoMundialLAC
HOY | La #migraciónvenezolana es la mayor movilización de gente en la historia reciente de #AmLat .

¿Puede esto transformarse en una oportunidad para la región?

Comenta con #migraciónvenezolana y participa de nuestra transmisión #envivo: http://wrld.bg/JBTU50xjVfr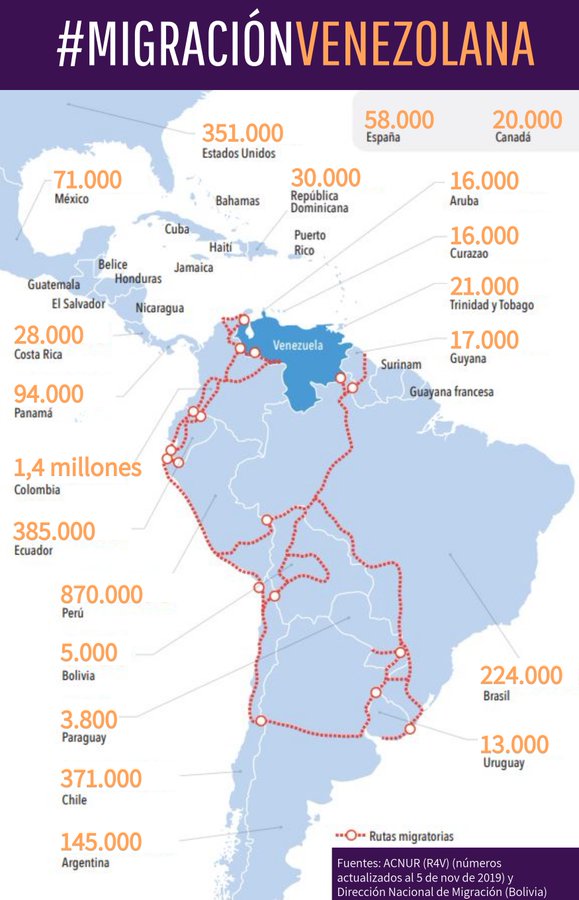 Panama is the Central American country that has received the largest number of migrants and even surpasses Mexico that has 71,000 and Spain, where there are 58,000.
The other Central American country that has received Venezuelans is Costa Rica with 28 thousand. There are no figures on this migration in Guatemala, El Salvador, Honduras, Belize and Nicaragua.
Despite immigration restrictions, the United States is the fifth country that hosts Venezuelans, with 351 thousand reported. In sixth place is Brazil with 224 thousand Venezuelans.
According to World Bank figures, more than 80% of people who have left Venezuela are in Latin America.
Please follow and like us: