PNO revisiting topic of Panama beachfront. Crucial vote forthcoming.
I/E: Don't F- – K this up people!!
https://www.prensa.com/sociedad/semana-crucial-para-el-futuro-del-proyecto-de-recuperacion-de-playas-en-la-ciudad-de-panama/
Amid a controversial debate about whether it is necessary to invest about 120 million dollars in the project to recover beaches in Panama City, this week defines the future of this initiative that drives the City Hall.
Voices for and against have faced an intense debate, especially in social networks. In addition, protests have been held.
The citizen consultation for the approval of this project will take place this Thursday, March 12 at 5:00 pm at the Basque Convention Center Núñez de Balboa.
However, the councilman Guillermo Bermúdez -representative of the district of Don Bosco- said that on Tuesday he will present at the session of the Municipal Council of Panama a proposal for the consultation to be suspended and held on a Sunday.
"After having listened to the people, we presented to the Municipal Council an agreement that will vote on Tuesday the suspension of the public consultation of March 12 and adopt the mechanism of public hearing on Sunday to guarantee citizen participation," he wrote recently Bermúdez on his Twitter account.
Willie Bermudez@WillieBermudezR
Después de haber escuchado a las personas presentamos al Consejo Municipal un acuerdo que somete a votación el prox martes la suspensión de la consulta pública de Marzo 12 y adopta el mecanismo de audiencia pública en día domingo para garantizar la participación de los ciudadanos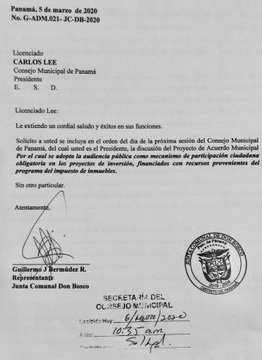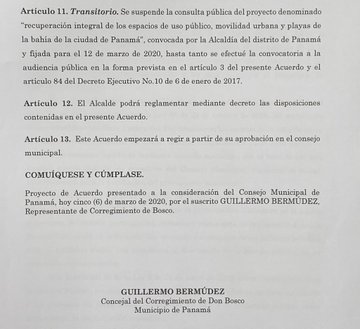 17312:15 – 6 mar. 2020Información y privacidad de Twitter Ads111 personas están hablando de esto
It should be noted that the president and former presidential candidate Ricardo Lombana, presented before a court of the Judicial Body an amparo of constitutional guarantees against the project.
Lombana informed that this plan is being requested to be suspended, emphasizing that the Constitution was violated by using 30 million dollars "for the beach, without consultation" and in case of possible environmental damage.
In his most recent post on Twitter, Mayor José Luis Fábrega "posted" a video about the project, about a minute, and commenting that the idea is more than a beach, "a vision of the country."