Indigenous of Panama: Native inhabitants fall victim to religious "Bubba Miseh"
OP ED: James "JB" Bryson- As my readers know, I am not a member of the Jewish faith, yet my granddaughter is being raised between two faiths, as her father is Jewish. That is how I first learned of the Yiddish term of Slavic origin above. "Bubba Miseh", as I have learned to interpret it, is a version of scary stories from the past used to influence people. One could make the argument that all forms of organized religion are guilty of this in some manner or form.
It is simply something that does indeed affect people, and especially in areas where education and ability to see things differently does not exist. There is a reason James Jones set up camp in Guyana. Why David Koresh kept people isolated in Waco. Why Warren Jeffs literally built his own private town in Utah. The cult of personality, mixed with stories of what happens if you don't listen or behave is the basis behind all "Boogeymen" stories.
I found this piece from LA PRENSA to be pretty interesting in the parallel that can be made from the victims of people being isolated and believing only what they are told.
https://www.prensa.com/impresa/panorama/el-demonio-que-si-habita-en-el-terron/
_____________________________________________________________________________
CHRONICLE OF A MASSACRE
The demon that does live in El Terrón
The abandonment and poverty of a town that is part of a country that manages budgets above $ 23 billion was exposed.Eliana Morales Gil
It is true. He who claims that the devil settled in The Lump does not lie. Live there. It is with the 300 inhabitants of this indigenous village every day. He accompanies them on rainy and sunny days. In the dark of the night, and in the foggy mornings.
+ info
The sect leader grew up in the shadow of oblivion and evilSect members accused of seven homicides will remain in ChanguinolaThe Public Ministry links 9 sect members with 7 homicidesHallan pit instead where they captured 'sect' members
The murder of seven people of this population through a sinister rite that used the excuse of taking out the devil, revealed the true face of that devil: the abandonment and poverty of a people that is part of the territory of a country that It manages annual budgets above $ 23 billion, which boasts of economic growth, which boasts its financial system, and the concrete and glass skyscrapers that try to reach the sky.
But in the Panama of the mountains, where El Terrón lives, the numbers are different.
Among the poor
The Ngäbe Buglé region is the place in the country that tops the list of the poorest places in Panama. According to the multidimensional poverty index of the Ministry of Economy and Finance (2017), that region of the country has an incidence of poverty of 93.4%, with 191 thousand 634 poor people.
The poverty map of Panama, also prepared by the MEF (2015), has statistics that support these data. In the corregimiento of Santa Catalina, of which El Terrón is a part, 3,968 people live, of which 91.7% are in poverty, that is 3 thousand 640 inhabitants. 74.1% of them are located in extreme poverty levels: 2 thousand 942 inhabitants.
Among the factors that, according to the multidimensional poverty index, contribute to this reality, there is insufficient educational attainment, precarious employment, inadequate waste management, unemployment and unpaid family work, and precarious materials. the House.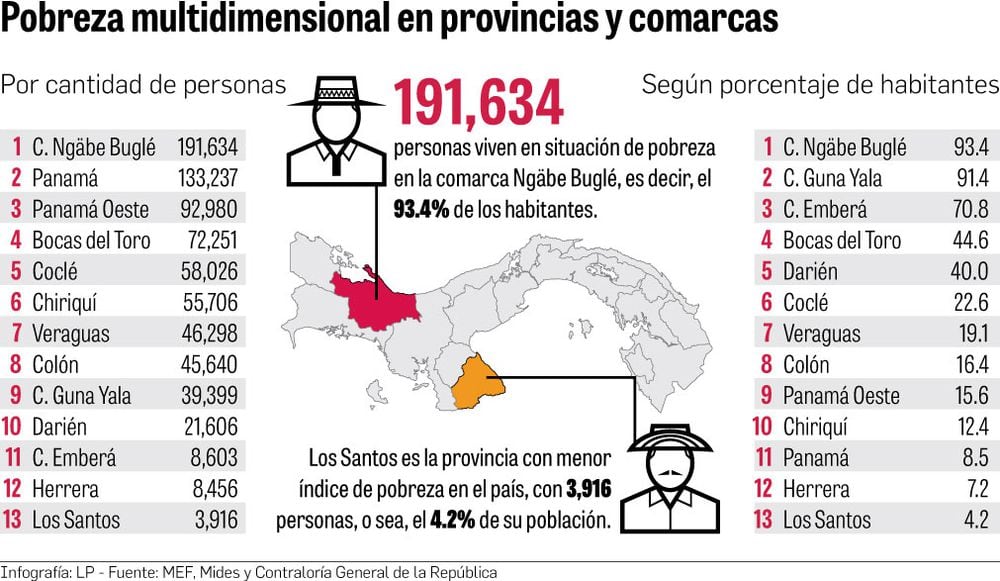 That's how they live
In El Terrón they do not have electricity, they do not have a health center to help them with their basic medical needs, and they do not enjoy the privileges given by the different social programs of the government. They live in makeshift wooden huts and thatched roofs that threaten to fall. They have drinking water thanks to the struggle of the elders of the community who cried out for this service for years. They obtained it through the extinct Community Development Program (Prodec), during the government of Martín Torrijos (2004-2009).
They have a school (made of wood planks) that serves students through sixth grade. It cost them long crossings along mountainous roads where you have to overcome slopes impregnated with mud and stone. But it also cost many pleas to the authorities of the time.
Porfirio Blanco, one of the founders of this village that was born at the beginning of the 1970s, remembers that. It was 1994 the year in which they managed to install an educational center there, the purpose was for children not to walk to Santa Catalina or Río Luis, the closest districts.
It takes a villager accustomed to the topography of the mountain up to three and a half hours to reach these towns.
'Isolated'
Now that Panama and the world learned about the existence of this remote community, following the already baptized "Massacre of El Terrón", its inhabitants ask the authorities to remember that they exist. Geography isolates them, and they feel that the State excludes them.
Read here: A pregnant woman and her 5 children were in the El Terrón pit; 9 people will be charged
Among the 15 people rescued by the authorities, from the sect led by Mario Plátano González, is Hilaria Blanco, sister of Diomedes and Pacific White.
Until last Friday, January 17, when this media visited El Terrón, the Blanco brothers were unaware of their sister's health status. They did not know if he is well, what the doctors detected, or when he will return home. "They had kidnapped a sister of mine, Hilaria Blanco with her whole family. They are inthe hospital. It is not known how they are. We don't have what to call, so you don't know how it is, "Diomedes told La Prensa .
To achieve cell phone coverage, the inhabitants of El Terrón must walk for at least six hours. To receive medical attention they must walk to Santa Catalina or Río Luis. To get a sick person out of the community you have to transport them in hammocks and challenge the roads. The other option is to take a boat to one of those two towns, but this implies a logistics that most of the time includes money.
Sixto González, 60 years old, asks for it clearly. "We are asking the Government for help in three things: phone, first aid, and put your hand in order to help us. (….) They abandon us completely, we need a guard barracks. Here to get a patient to Rio Luis, it's two and a half hours by boat, and from here to the river is a problem: the lodasera [sic]. We don't have a hammock to take the sick. I've seen cases of women giving birth along the way. I do not know in which country we are living. I think we have the same duty and right as those of Veraguas and Bocas. "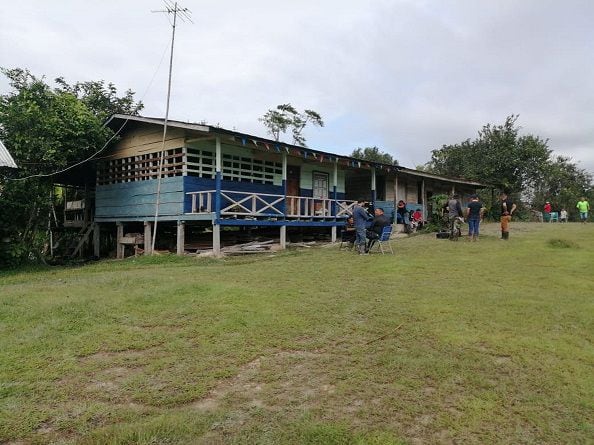 To get to El Terrón from the capital, you have to drive to Santa Fe de Veraguas, there is a detour that leads to Luis River. This corregimiento is reached by a road that the government of Juan Carlos Varela (2014-2019) built and baptized as La Conquista del Atlántico ($ 37.5 million). Breathing curves, and mountains lost in the fog, feed the landscape. When you arrive in Rio Luis you have to take a boat or speedboat, and navigate the Calovébora river. Once you reach the area, you have to walk a little over an hour on sloping terrain, with mud and stone.
"It is not possible that we are abandoned, worse than a mountain animal and that bothers me. Look at the poverty, look at this (…) ", says Sixto, pointing with one of his fingers to the place they call a health post: an improvised straw hut that is held with pieces of old wood. They ensure that medical personnel arrive at the site every three or four months.
The minister arrives
Last Saturday, January 18, one day after this media visited El Terrón, the Minister of Social Development, Markova Concepcion , visited the town. A press release released by the entity states that it was accompanied by a team of clinical psychologists, sociologists and social workers to serve the community after the tragedy. They distributed photographs in which the minister is seen with children, the elderly, the Evangelisto Santos chieftain, and with other men and women of the town.
On Friday, at 9:30 am, National Police personnel had arrived. It will be in the area indefinitely. The population fears reprisals from the followers of the religious group commanded by Mario González, a man who, according to his neighbors, was "aggressive, troubled, troublemaker, and friend of others."
Read here: Police settle indefinitely in El Terrón after the murder of seven people
Apart from the community, about eight years ago, Mario González created a group to pray to Jehovah, with the support of his wife and children. In four days (from Saturday 11 to Tuesday 14 January) the sect ended the life of a pregnant woman, her five children, and a 17-year-old girl. It could be worst.
"We were on the list," says Chief Evangelisto Santos to assume that without the cry for help that those who escaped, and the noise that the deaths made, all the inhabitants of El Terrón would have disappeared.