JB: As I have covered in my visits to Isla Colon and Bocas Town, it is already a very messy place. Encouraging to see that those residents are being more intelligent than most city dwellers.
https://www.prensa.com/provincias/municipio-de-changuinola-aprueba-el-uso-obligatorio-de-mascarillas/
The Municipality of Changuinola, Bocas del Toro province, became the first authority to make the use of face masks compulsory for citizens who take to the streets, and also increased the fine to $ 100 for those who violate the mandatory quarantine imposed by the Covid-19 pandemic .
Through decree No. 13 of April 13, 2020 and carried by the signature of Mayor Yesica Romero García, it is provided that any person who is caught walking through the streets violating the quarantine imposed by the Ministry of Health will be sanctioned with a $ 100 fine and for those who are repeat offenders the penalty will be double the first.
While in the case of minors, the sanction will be applied to the father of the family.
It also provides that everyone outside your residence must wear a mouth cover or mask.

Municipio de Changuinola@Municipio_chang
Decreto #10, del 13 de Abril del 2020, donde se aumenta a B/ 100.00 la multa a quienes sean sorprendidos circulando en las vías en el horario que no le corresponde y se ordena el uso obligatorio de cubre bocas a toda persona que esté fuera de su residencia.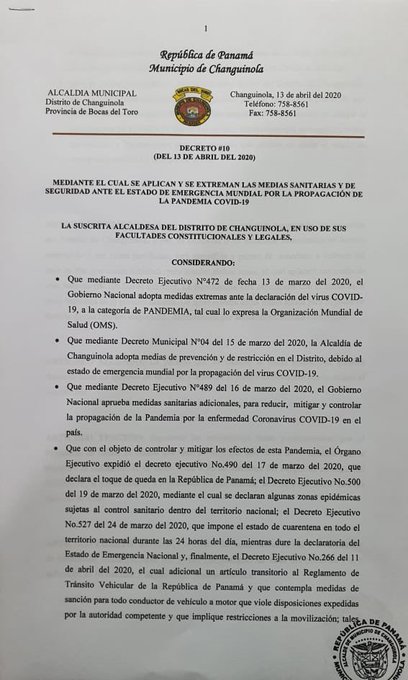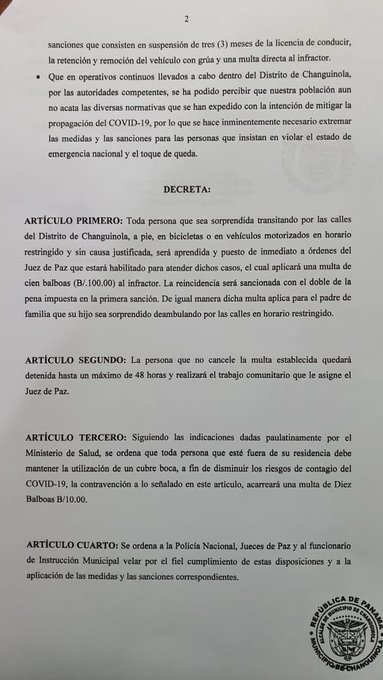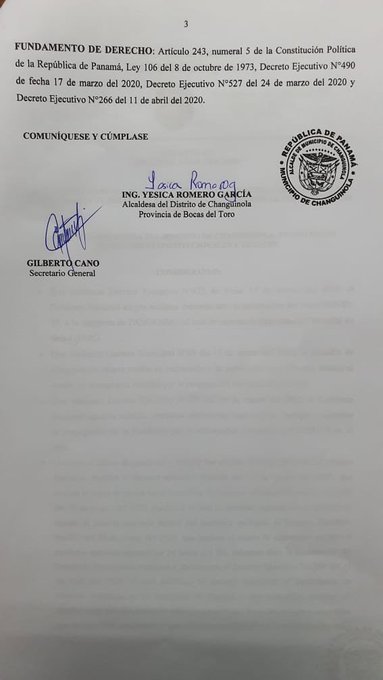 1515:44 – 13 abr. 2020Información y privacidad de Twitter AdsVer los otros Tweets de Municipio de Changuinola
Some commercial establishments have established the use of masks for citizens who enter their facilities.
However, the pharmacies and shops selling these items are sold out.
The Ministry of Health suggested the use of cloth masks to citizens for when they are indoors.